Fresh from the Wheel:Tuesday's Summer Picnic
In a somewhat desperate attempt to avoid thinking about all the things needed for the move let me share with you my latest handspun. Because of the aforementioned moving situation I had to actually take the time to clear off the wheel, oh darn legit motivation, the singles have been languishing on the bobbin for about a week (maybe two.) Mind you it took almost two months to get the singles actually spun (I can't blame this one on the move.)
The yarn is 100% Shetland Wool in the Picnic in the Park 2 colorway.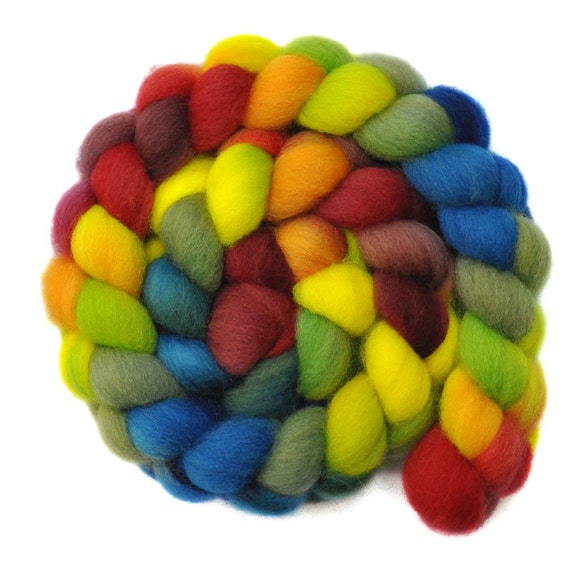 The photo above is from the seller, EdgewoodGardenStudios and let me tell you that shop is full of serious temptations (you've been warned.)
Now you may notice that there is a healthy dose of yellow in the fiber, which isn't normally my thing, but the faux rainbow effect was enough to draw me in. I decided to spin this yarn in strips from top to bottom, the plan was to chain ply and end up with something close to self striping yarn.
This actually worked pretty well, the fiber was a dream to spin (seriously go check that shop out, her stuff is just amazing.) I ended up trying to spin thin but without over twisting,  a very common problem for me, I think it worked for the most part. I ran into two instances, when chain plying, where the fiber wasn't twisted enough and fell apart.
For anyone that does chain plying on the regular, do you run into this? If so how do you fix it? I often bungle my way through it, trying to get enough twist to reattach the singles but there was one time it ended up with more of a mess than a fix. I would love to hear from you on how to handle it, or if you have any online links to where I could figure it out. It would appear my google-fu isn't working as well because I can't seem to find anything addressing this particular issue.
Anyways the yarn was plied and had a little bit of a rest (not much because of the whole moving thing and time limitations) before I wound it off and gave it a little bath. Luckily it dried fairly quickly and Sunday afternoon I was able to snap a few photos. Okay, the truth is I tried to snap a few photos, as of late my shaking hands have resulted in less than stellar photos, but the Giant lent his steady hands and I manged to get a good shot.
Remember how I mentioned the yellow from before? Yeah I don't know if it is just me or what, but I am picking up a lot of it in the photo and even more so in the skein. I still love it.
The yardage is approximately 432 yards, but that could be off (sleep issues plus foggy brain means I had some difficulty counting, it didn't help that one of the cats insisted on being a velcro kitty with the yarn.) Fun fact though, this was my first time chain-plying on my double treadle wheel so there is that minor flush of pride because it isn't completely messed up. The plan for the yarn as of now is a pair of handspun socks for The Giant but that is down the road.
Unfortunately both wheels (unless somebody decides to snap Bea up-shameless self-promotion here) will have to go on the moving truck (there's simply no room in our tiny car) and so it means spinning will be on hold for awhile (I sold my spindles off earlier this year, but hopefully I can remedy that soon.)
The big thing left to do fiber wise is figure out just what projects to pack. If you had a two- four week time frame to have to plan your knitting around what projects would you chose?